DSC partner/reseller program is designed primarily to target companies engaged in the selling of Digital Signature Certificates (DSC), eSign Services, PKI Services, and related services. Anyone can start their own DSC firm directly from the Approved Certificating Authority of India. Digital Signature Certificate (DSC) is a special USB device where the digital signatures of the corresponding person are stored. There is a huge market for Digital Signature Certificates (DSC) in the future as everything is being shifted to paperless applications from paper-based applications.
The following list of people can become a DSC Partner or a DSC Reseller and run a Digital Signature Programme or Digital Signature Agency in India. 
1. Chartered Accountants 
2. Company Secretary '
3. Tax Consultant
4. Advocates
5. RCTC Agents
6. TIN FCs
7. Already a Sub Dealer or Sub LRA
8. Contractors / e-Tendering
9. Vendors
10. Any Individual
11. Any Organization
The various programs where you could enroll yourselves in the Digital Signature Certificate business are:
(a) Partner DSC Program is a program for companies who work in multiple cities and are focused on earning revenues from selling Digital Signature Certificates.
(b) Reseller DSC Program is designed for companies who control some associates and are confined to a few cities.
(c) Associate DSC Program is designed for startups/small companies who are engaged with DSC for their limited clients with minimal investment.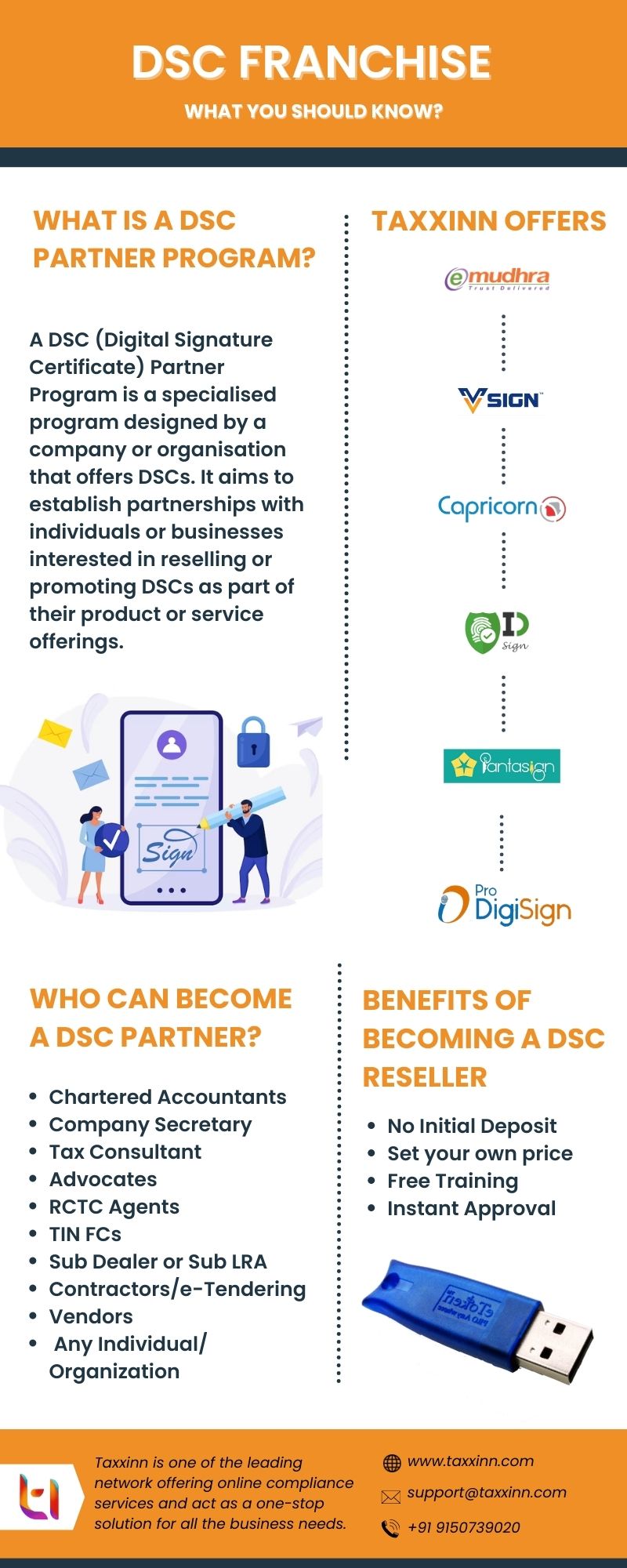 Features of a DSC Program
The important features or advantages of  becoming a DSC partner, reseller, or beginning a Digital Signature program and the agency are:
No Initial Deposit
There is no requirement for any initial deposit or investment like other businesses since you only pay only for the amount equal to the quantity of product you purchase. 
You Decide the Selling Price
Digital Signature Certificate partners, resellers, and agents can create their own network and sell the DSCs at the price they would like to and earn a handsome profit.
Infinite Reseller Program
By becoming a DSC partner, you can further connect to DSC agents, DSC resellers, or end-users as you wish and all the data are confidential.
Huge Profits
After becoming a DSC partner, reseller, or agent you can distribute Digital Signature Certificates at a better price to earn huge profits. 
Training and Free Demonstration
The DSC partners, resellers, and agents will be provided free training and free demonstration of the process and made sure that all the doubts of the DSC partners, resellers, and agents are clarified.
Instant Approval
Instant approval for Digital Signature Certificates will be provided and you can get the benefit of speedier approval.
Want to become our Digital Signature Partner? Contact our Taxxinn team and start your own Digital Signature Certificate business & issue DSC from your office.